State appropriation is a critical source of funds for the fulfillment of the University of Oregon's mission of teaching, research, and public service. Like many public universities across the nation, the UO experienced a steady disinvestment from the state legislature starting in the 1990s and reaching a crescendo in 2007-09 as a result of the recession. These cuts have had a direct impact on student access and outcomes, as well as on the preparedness of Oregon's workforce.
As Oregon's economy recovered from the recession, the legislature has begun to reverse its trend of disinvestment. The last three biennia have seen increases to higher education. Most recently, the legislature increased its investment in higher education with an increase of $100 million in the Public University Support Fund (PUSF), $20 million short of what was needed to keep resident undergraduate tuition increases at or below a 5% increase. The PUSF is distributed to all seven public universities in Oregon through a funding formula. The UO receives approximately 22% of the PUSF.
Nevertheless, funding for higher education in Oregon is still not back to pre-recession levels, and the increased investment has not kept pace with state-mandated cost drivers. This has resulted in universities being faced with untenable choices that have negative impacts for students—raise tuition or make cuts to critical programs and services.
The State of Oregon began its budget-setting process for the 2021-23 biennium in the spring of 2020 when the seven public universities submitted a consolidated funding request to the Higher Education Coordinating Commission (HECC). The HECC used that request to formulate a submission to Governor Kate Brown, who released her recommended budget in December 2020. The Legislature used her budget as a basis for their final decisions in the 2021 legislative session.
If you are interested in helping out with efforts to increase funding for higher education in Oregon, please reach out to either your ASUO representatives or one of the TFAB representatives who can help connect you with legislative staffers working on this issue.
---
State Appropriation in Actual and CPI-adjusted Dollars, FY90 to FY22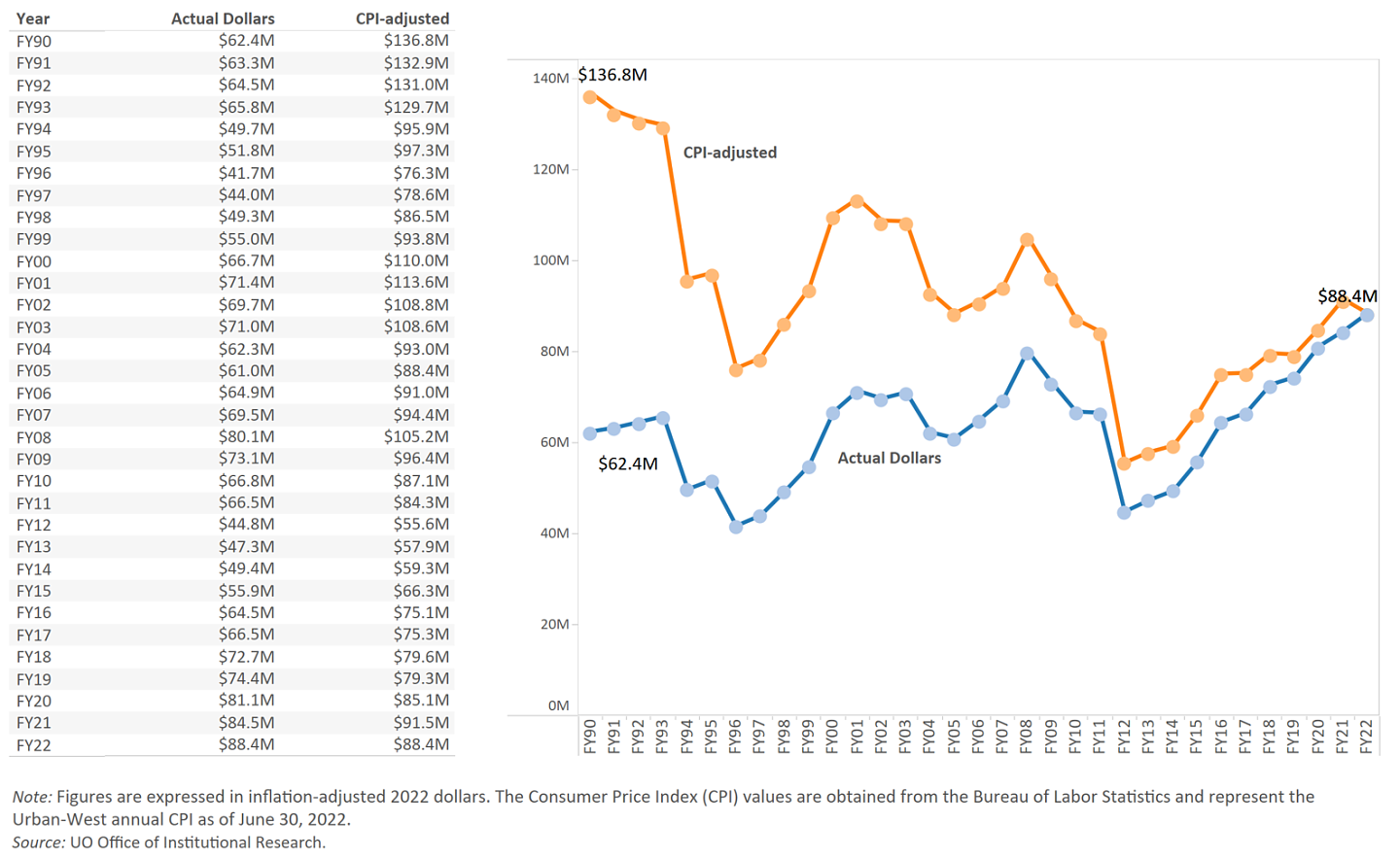 State Appropriation and Resident Tuition (net: after remissions) Revenue per Student FTE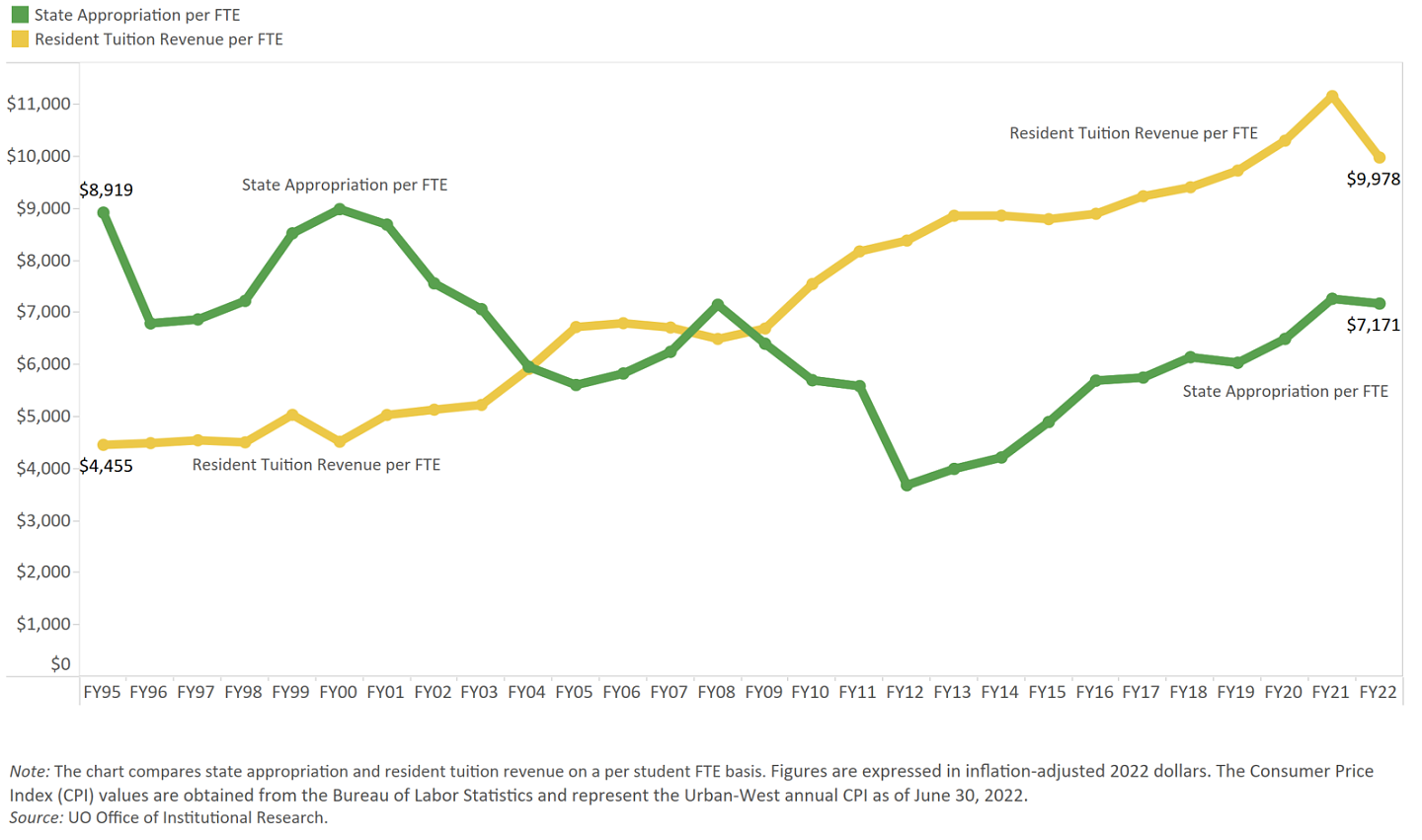 State Appropriation and Resident and Nonresident Tuition (net: after remissions) Revenue per Student FTE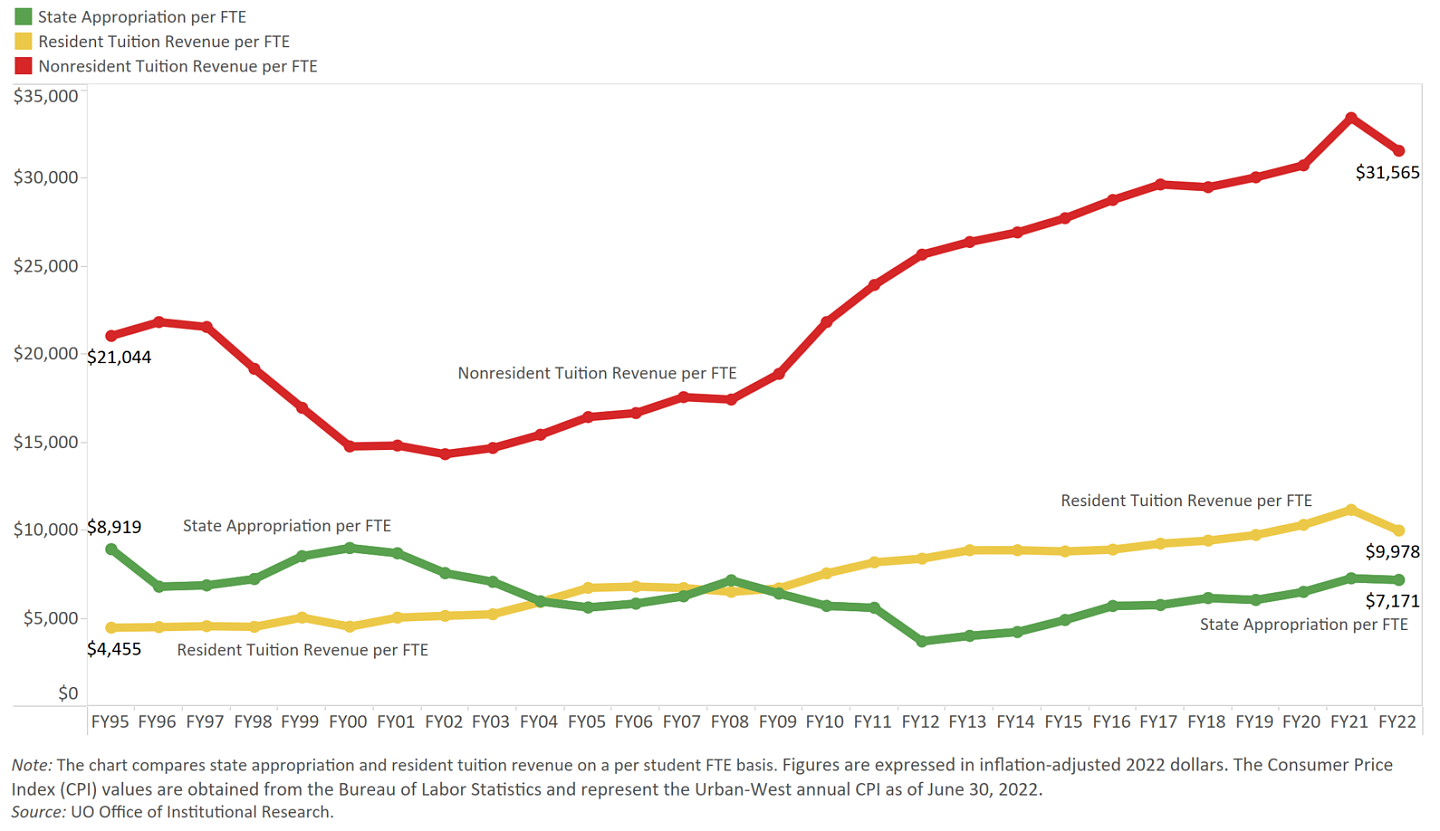 State Appropriation per Resident Student and Resident Tuition and Fees among AAU Publics (FY2020) (scatter plot)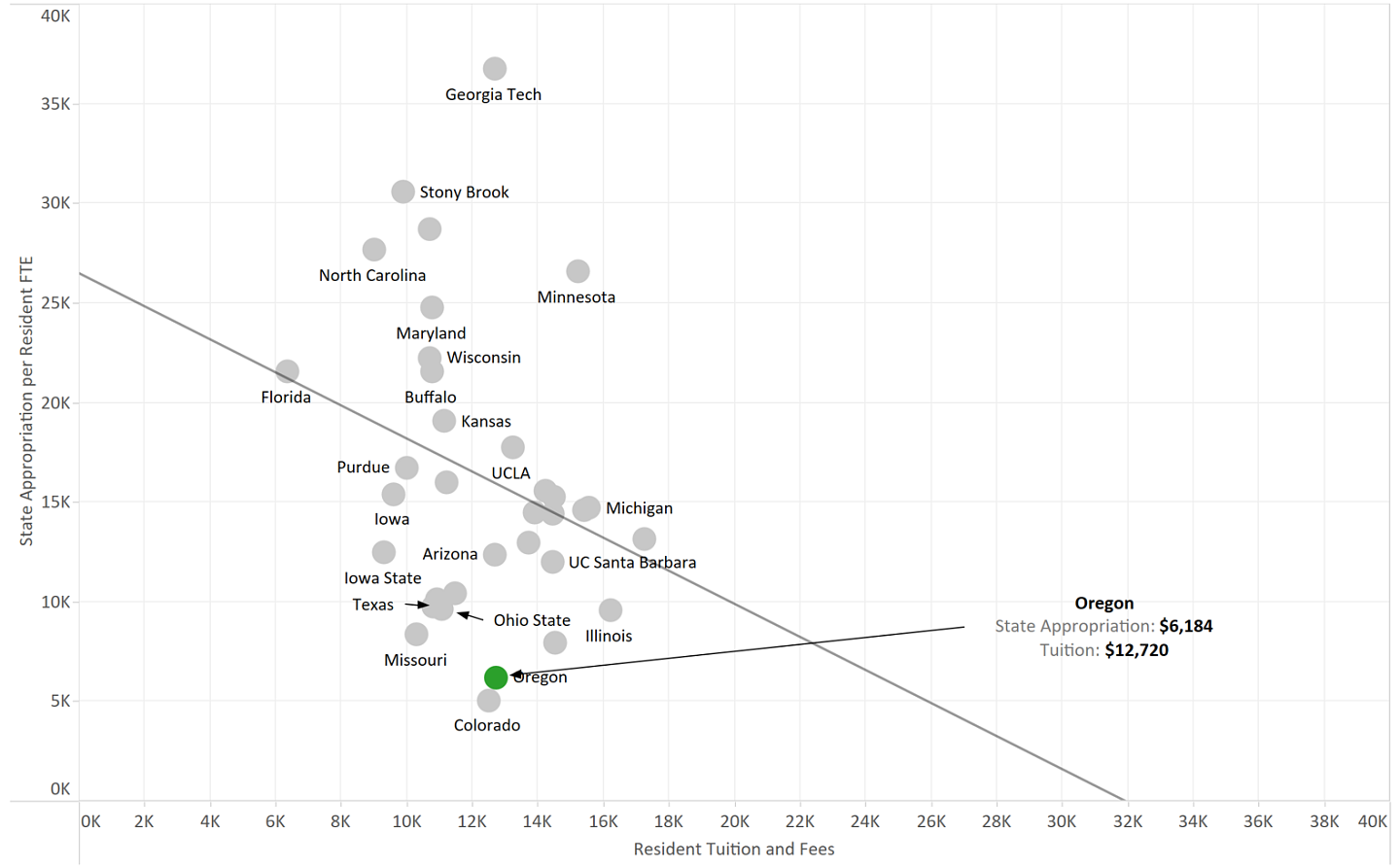 State Appropriation per Resident Student and Resident Tuition and Fees among AAU Publics (FY2020) (bar chart)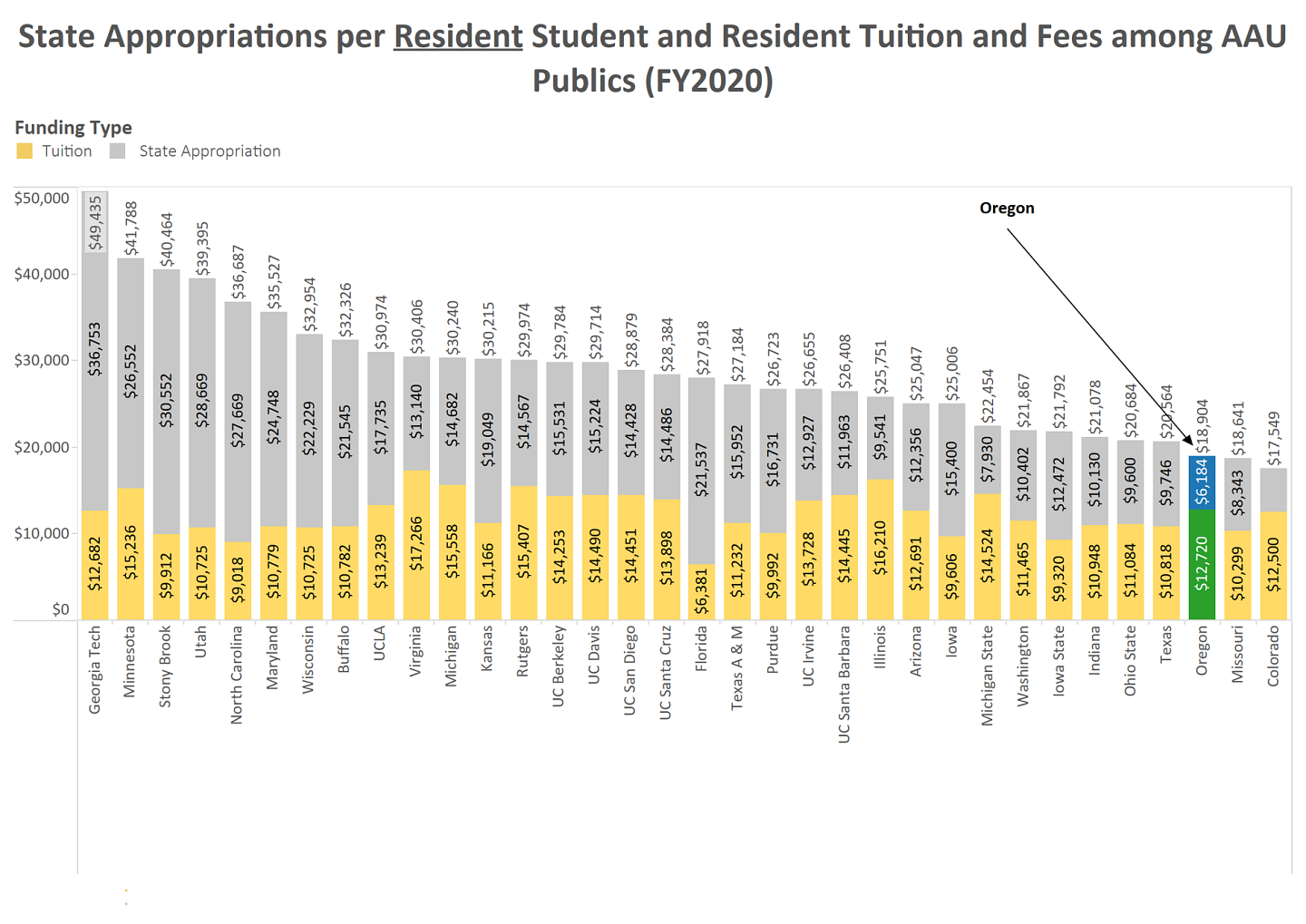 State Appropriation per Resident among PAC-12 Publics (FY2020)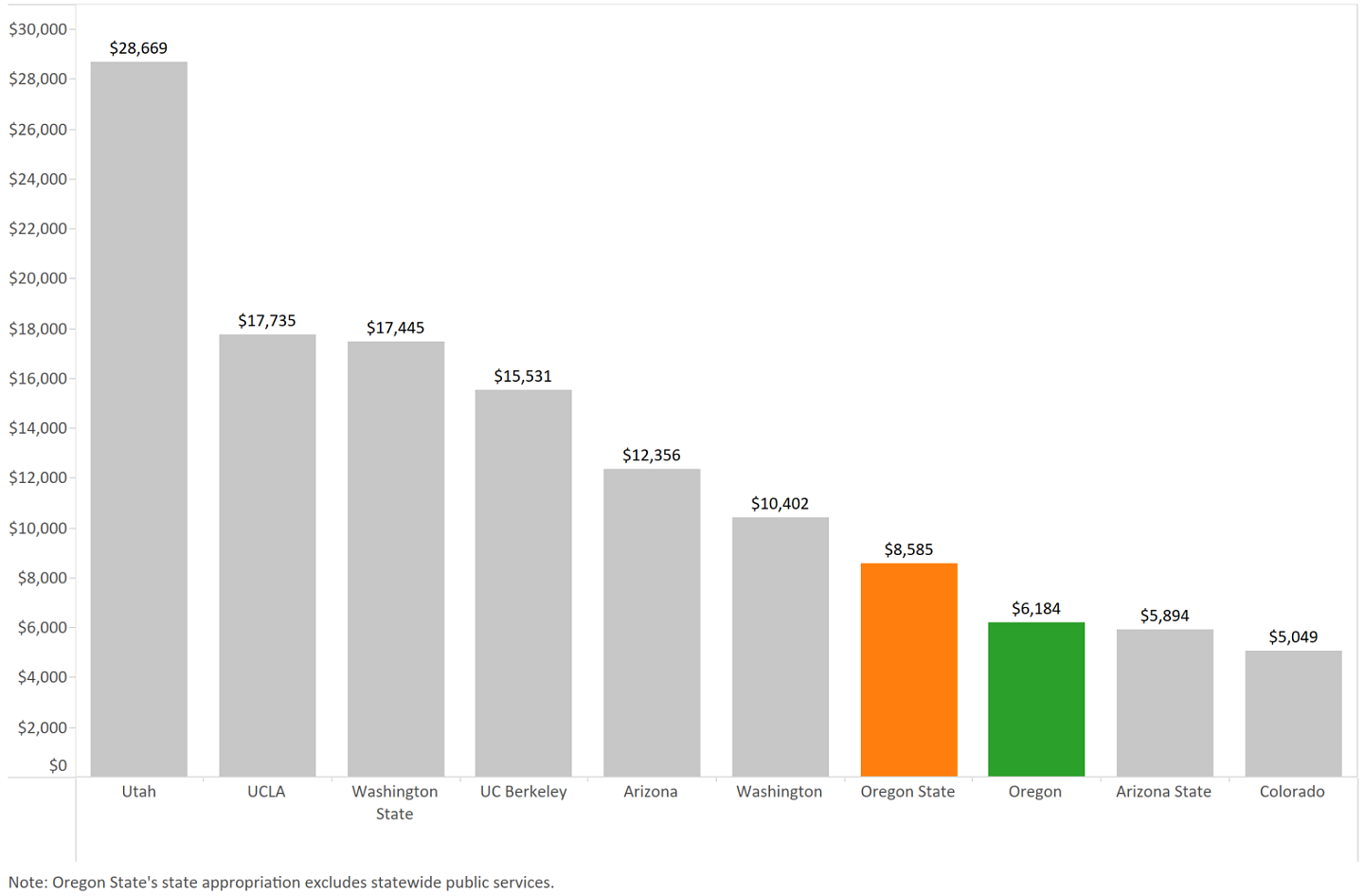 State Appropriation per Resident Student and Resident Tuition and Fees among PAC-12 Publics (FY2020) (scatter plot)